Here is how we streamline and maintain your ideas into long-term and reliable series production.
Your Innovation, Our Facilities
Do you have an approved design for a medical appliance or piece of equipment for the MedTech, BioTech, and PharmaTech industries, but not the means to produce it in greater numbers? At Technobis, we not only have the tech, team and tools to improve your design and keep it up-to-date, but also the ability to handle long-term grand-scale production.
We also know how to improve your product's sustainability. We periodically review and improve designs, and consciously weigh material and part choices. Contact us today to get started.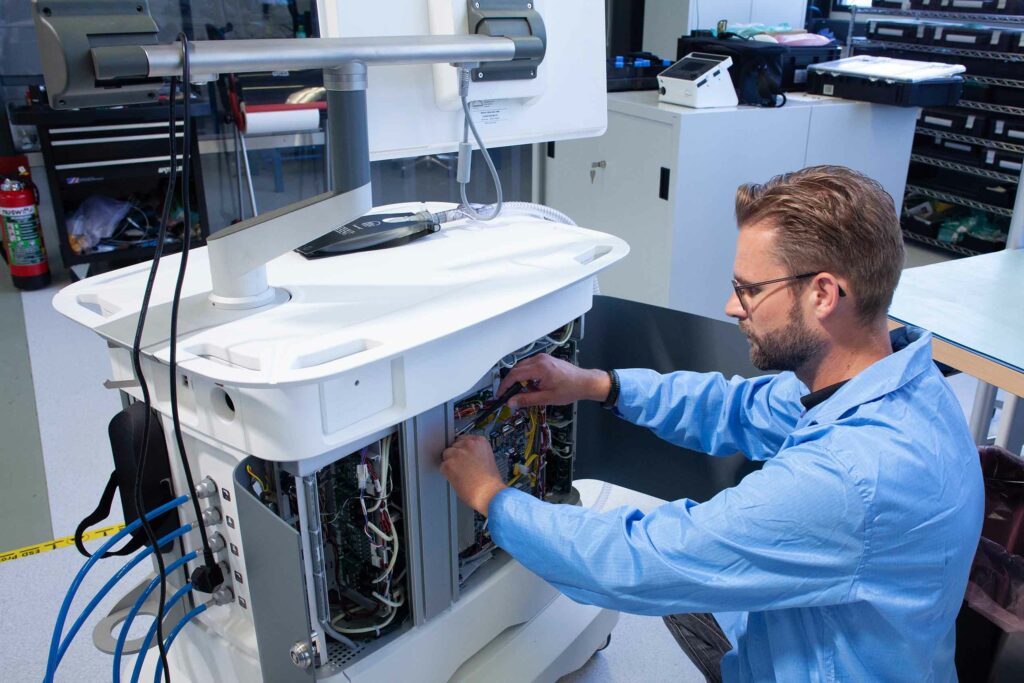 We have been relying on Technobis's expert handling of our Crystal 16, Crystal Breeder, and Crystalline series production for over 10 years now. They took on the challenge of setting up the series production including the supply chain for our whole product fleet. The assembly personnel and engineers who are well trained with our specific products in mind, continually offer invaluable engineering proposals that helps us to reduce costs and keep the quality at the highest level.
At Amazec Photonics, we develop a cardiovascular monitoring device, which will make a difference in patient care. Technobis is our partner for the development and series production of this new medical device, by thinking along about optimal functionality, layout and producibility. Technobis helps us to set up a realistic planning, define the Minimal Viable Product and all documents and procedures for the medical certification of the pre-series products.We basically shared our ideas to their development team and by using their engineering insights we will create an optimal medical device together!
For more than 15 years now, Technobis has been a Strategic Supply partner to the PerkinElmer Llantrisant site.They manufacture and supply highly complex assemblies for our flagship HCS Products – Opera Phenix and Operetta CLS, with an ongoing value engineering focus to reduce cost. Their delivery performance has been punctual and their in-stock supplies are scaled up or down, in line with our variable demands.
"We have recently partnered up with Technobis and already appreciate their hands-on approach and we-make-it-work mentality. We're excited to see their contribution to our device and are currently moving through their step-by-step process for optimising our products for series production, and it looks highly promising."
Seven Steps to Series Production
At Technobis, you can benefit from our standardised seven-step process to start producing your device:
Full support during product life cycle
The series product design has to be maintained during its lifetime. During its lifetime components become obsolete and have to be replaced, a customer specific design is required, functionality has to be added or removed or costs have to be optimized. In short, the activities are:
Document Management (ISO standards)

Maintain production documentation

Obsolescence management

Customer specific design


Cost optimization by

Value engineering

Reviewing manufacturability

functionality improvements

Assembly improvements
With more than a quarter of a century of high-tech experience under our belt, Technobis specialises in creating the supply to your demand. We routinely handle precision mechanics, optics, electronics, software installation, verification, commissioning, and Factory Acceptance Testing for medical applications. We conform to ISO 13485 regulations.
The following are a selection of products we help produce and improve:
Long-Term Focus, Close-Knit Cooperation
Technobis strives to be a production partner for the longer term. Benefits for you include that we learn to thoroughly understand your specific requirements, keep a close watch on production quality, periodically review your design, and maintain correct and up-to-date documentation required for your certification.
Our Facilities, Your Advantage
With Technobis as your partner, you have full access to the following state-of-the-art facilities:
    Precision mechanics
    Optics
    Electronics
    Software installation / verification
    Commissioning and Factory
    acceptance testing
    Mechatronics
Interactive SOLIDWORKS Composer Assembly Instructions 
Tracking of assembly quality
Odoo ERP  
Engage: E-QMS ISO 13485
Qooling: E-QMS ISO 13485
Assembly & test room, ESD compliant
Conditioned labs for prototyping and  pre-series verification & validation
Vibration isolated labs
Down-flow lab
Cleanroom, class 8
Proto workshop turning and milling  & 3D printing facility